There are a few items to look out for during the Camera update which can result in difficulties. Please read the following if you are having any troubles:
Downloading required file onto Micro SD card
When prompted to send a file to the downloaded file, it is important that the downloaded file has the exact name ForciteSysFW.bin
If the file does not have the exact name as shown above, then complications may arise which may prevent you from progressing through.
Receiving email of file
If you have not received the email containing the instructions to download the necessary file, then please restart the firmware update and request for a new email to be sent out from the app. Please also check your spam folder. If you are still not receiving the email, then please email support@forcite.com.au and we will be able to assist and provide you with the file upon request.
Please download file from the email and place it on your helmet's SD card to continue your camera firmware update process. If you're not sure how, follow these steps:
Connect your helmet to your home computer using the charging cable

Copy the file from your computer onto your SD card as shown below

Use the Eject function from your computer onto your SD card as shown below

In the app, return to

Settings > Helmet > Firmware Update

to resume and complete the Camera update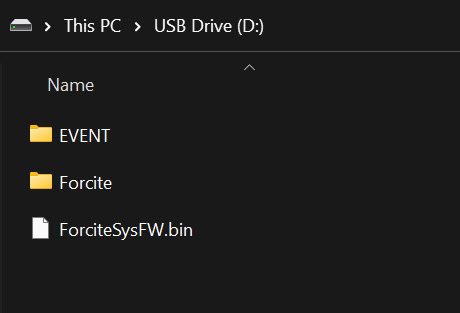 Please make sure the name of the file you put in the SD card is exactly the same as the example shown above.
Format of Micro SD Card
The format of the Micro SD card can have an effect on progressing with the update. If the app is unable to progress after providing the SD card with the ForciteSysFW.bin file downloaded from the email, then please reformat the SD card. Steps on how to format it can be found under 'Resolving SD Card Issues' through the link here.